An Autobiographty by Actor
House Peters Jr.

"This is a true story, with no punches pulled. I want you to know that although there was a great deal of sadness and many difficulties in the Peter's household, there also were many happy occasions."

"From 1935. serials - Flash Gordon, Batman & Robin, etc.; westerns- Gene Aurtry, Roy Rogers, The Lone Ranger, and ect: and the sheriff on TVs first Lassie series. Returning in 1947 to supporting roles in features, television, and many early commercials- TVs original "Mr. Clean," Pall Mall, Chevrolet, Hertz, Gallo, and ect. House introduces you to actors, actresses, producers, directors, agents and a theatrical Peters family from 1881 to the year 2000."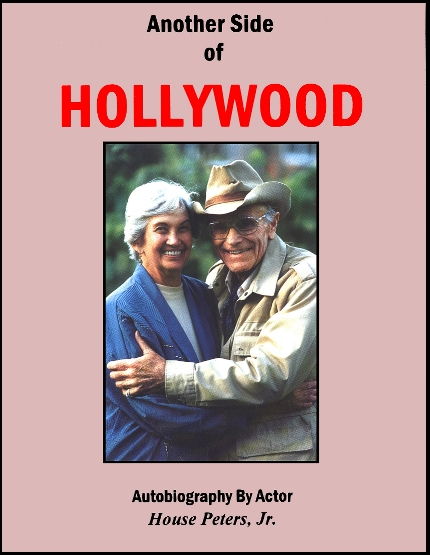 "All of the following play a part of my story."
Gene Autry, George Archinbaud, Hugh Beaumont, Johnny Mack Brown, Michael Chapin, Jan Clayton, Iron Eyes Cody, Buster Crabbe, Broderick Crawford, Joan Crawford, Bette Davis, Cecil B. DeMille, James Dean, Andy Devine, John Doucette, Richard Emory, Jimmy Gleason, Eddie Gutierrez (Lucy's nephew), William S. Hart, Raymond Hatton, Tim Holt, Lassie, General Douglas McArthur, Joel McCrea, James Millican, George Montgomery, Clayton Moore, Alan Mowbray Hugh O'Brian, , Mary Pickford, Charles Quigley, Paul Robeson, Roy Rogers, Dave Sharp, James Stewart, Johnny Weismuller, Frank Wilcox, Bill Witney, Natalie Wood, Adolph Zukor, Mr.Clean, Gregg Peters and Lucy Pickett Peters

Cut! Print! Call your agent, House! That's a wrap for the day!
"It seems like I heard those words countless times as a working actor for the twenty-three years I spent in front of the cameras from 1935 to 1967. A lot of water has gone under the bridge since a young nineteen year-old chap aspired to make a name for himself. I was born into a prominent theatrical family, tagged with the name of "Junior" Robert House Peters, and better known to my parents as "Kipper." Later I was called "Juny" by my father, and "House" by my mother."





CHAPTER I

If you walk up the North sidewalk of Hollywood Boulevard, East of the Pantages Theater, within eight stars of the inimitable Bob Hope, you'll come upon one of the first stars planted along that internationally-known thoroughfare. This particular star doesn't attract much attention. Never has. You won't see tour buses stopping there to invite passengers gaze at it. If anyone takes notice at all, it's only because the name engraved into the Terrazzo base is so unfamiliar. What's more, when the Chamber of Commerce (what started this tradition anyway? Was your father THE FIRST to get a star? Did you discuss this event later in the book?) mortared that monument into the cement more than forty years ago, they did so without ceremony or fanfare. They never even bothered to inform the actor whose name the star bore!
Interestingly, when the man the star was supposed to honor did learn about it, he wasn't impressed enough to make the trip across town to look at it. He didn't give a damn about celebrity, and he couldn't see why anyone would make a fuss over a film actor. Why, working in pictures was nothing more than a way to earn a living--a good living, to be sure--but nonetheless, it was just a job.
Yet back when the century was new, when movies were made with hand-cranked cameras and without sound - he was a big name in Hollywood: a handsome leading man who played opposite beautiful screen goddesses such as Mary Pickford and Joan Crawford. To me, he was much, much more than a show business figure.

He was my father: Robert House Peters.